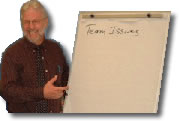 Dr. Lewis Bender is a Professor Emeritus of Public Administration at Southern Illinois University at Edwardsville (SIUE). He has taught a variety of classes in supervision and leadership for the Department of Public Administration and Policy Analysis.

Previously at SIUE, Lew was the Director of Regional Research and Development Services, which was responsible for university, community and public service outreach and applied research endeavors. Throughout his career, Professor Bender has been deeply involved in community-based applied research, organizational goal setting and planning, and approaches to organizational development. His educational background includes BS in History from Grand Valley State University, Allendale, Michigan (1971); Masters Degree in Political Science, Wayne State University, Detroit, Michigan (1973) and Ph.D. in Political Science, University of Georgia, Athens, Georgia (1977).

A specialist in training and organizational development for business and government, he conducts seminars and workshops for management, supervisory, support staff and customer service employees - anyone who needs to be effective in communicating. Dr. Bender is well known for his candid approach and casual style. He has worked with organizations across the U.S. and Canada. Prior to his appointment to SIUE, Dr. Bender served as the Director of the Center for Governmental Research at Central Michigan University.